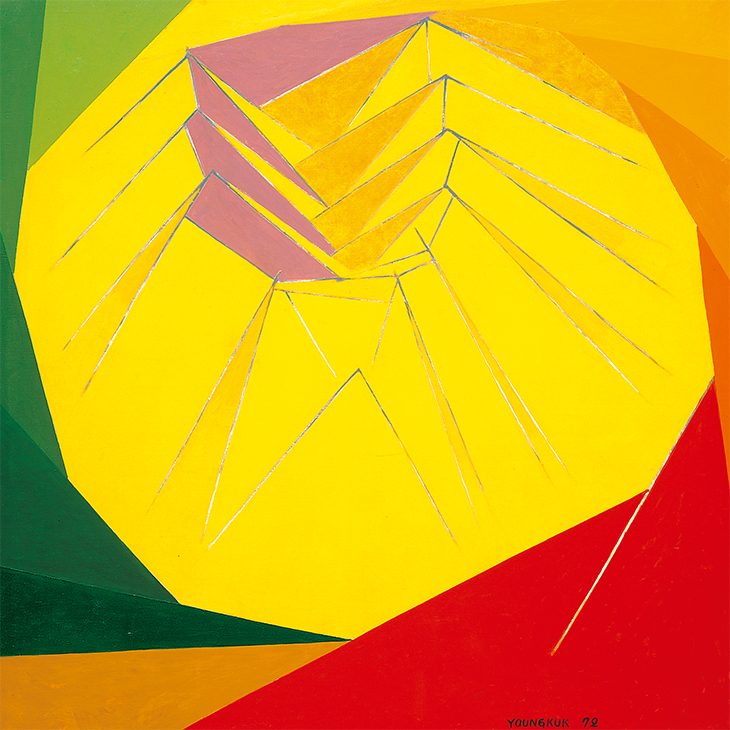 The mountain lies within me,
not outside of me.
Work, 1972, oil on canvas, 134x134cm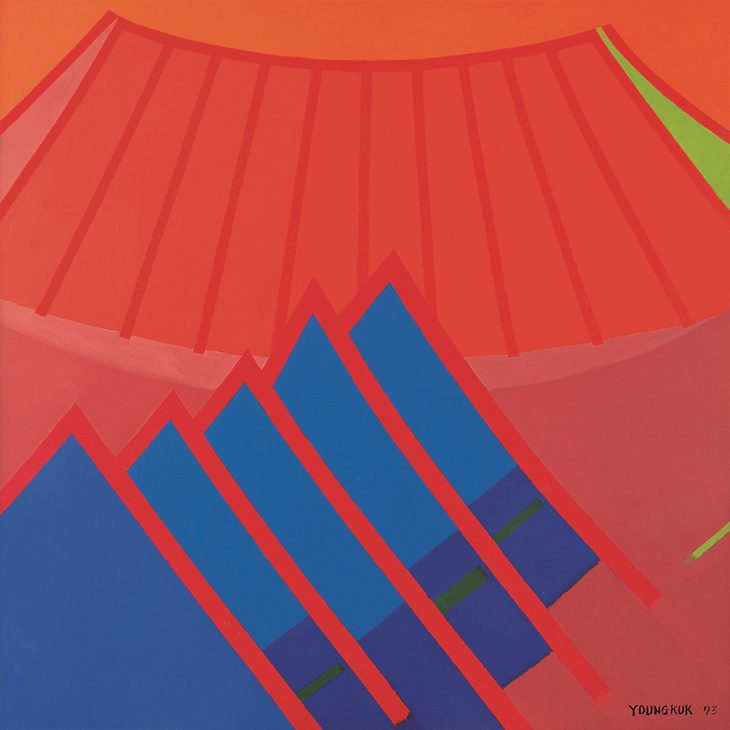 It is impossible to imagine
paintings without colors.
Mountain, 1973, oil on canvas, 132x132cm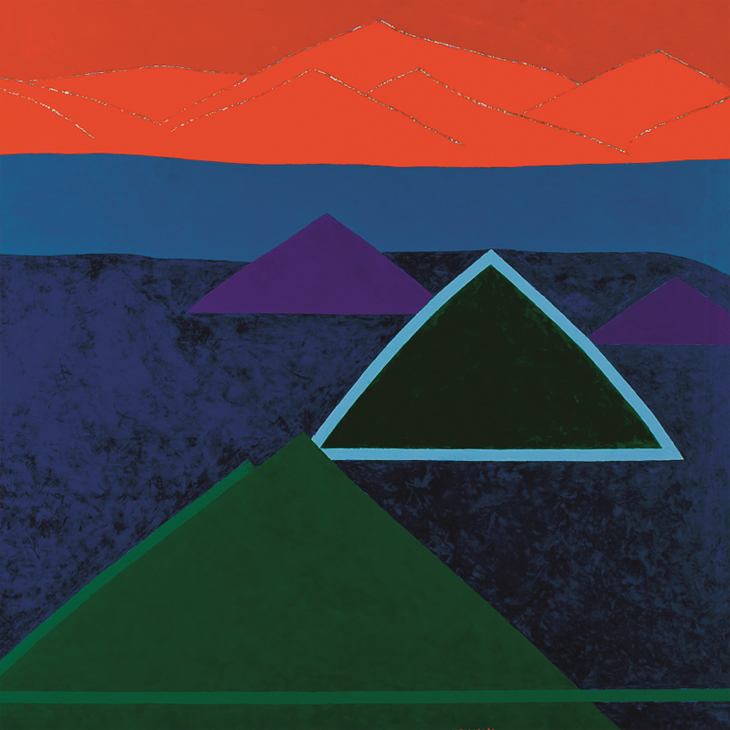 I find curvy roads within my paintings of mountains, which resemble one's life.
Inside the mountains that I paint,
there hides many shapes of lives.
Work, 1987, oil on canvas, 135x135cm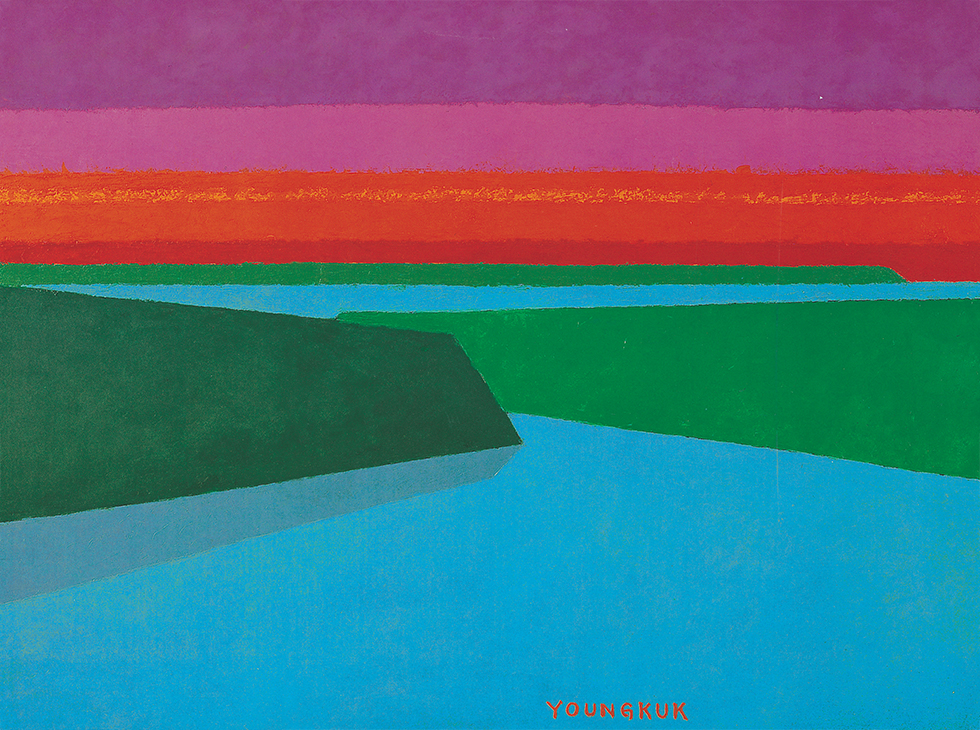 Simplicity shall be achieved
within complexity.
Work, 1994, oil on canvas, 66x91cm
Whenever I am faced with a dead-end in my
process of creation, I believe there's always a
breakthrough I can find within. Thus, every
artwork is a process for the next, and a reason
for keep creating my works.
Work, 1962, oil on canvas, 130x194cm
Photo by Limb Eung Sik, PHOTOARCHIVES OF LIMBEUNGSIK
YOO YOUNGKUK
Korea's first abstract painter,

Yoo Young-guk

(1916-2002)
Artist Yoo Youngkuk (1916-2002) is known as the pioneer of Korean abstract art based on the avant-garde aspects of Korean modern art. He is especially well known for his outstanding sense of representing Korea's landscape and nature in abstraction through brilliant colors and bold forms. Born in the country's southeastern city of Uljin, Gyeongsangbuk-do Province, home to country's beautiful mountains and sea in 1916, Yoo began studying arts at the Tokyo Culture Institute in 1935. He also enjoyed exchanges with other well-known Korean artists including Kim Whanki, Chang Ucchin and Lee Jung Seob. During his time at the Tokyo Culture Institute, which boasted a relatively liberal style of painting, Yoo first attempted abstract painting, which was the most avant-garde art movement in the city back then.
VIEW MORE
Photo by Ahn Chunho, Provided by Kukje Gallery
There's something peculiar about time as it always leaves behind those whose traces must left behind, regardless of era.
In other words, history does not leave behind people who cannot be substituted by any other person.
Staring at his mortuary, I felt that "an era has now come to an end."
Choi Jong Tae (Sculptor)
" Yoo Young-kuk believed, with all certainty, that art was a way to build those visions that showed
that the world can be different and better. "
Bartomeu Marí (Former Director, MMCA, Korea)
Photo by Ahn Chunho, Provided by Kukje Gallery
"I'm confident that the road leading up to his abstract works was like his given destiny.
If it were not for him, and if it were not for his determination and fierce unfolding of his consciousness,
what would have happened to Korean abstract art and modernism of Korean art?"
Oh Kwang Su (Director, Museum San)